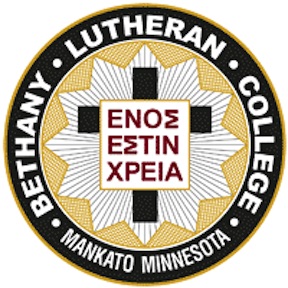 "One thing is needful"
in Greek on the
Bethany seal
Live streaming worship services is a great way to engage those not able to attend in person. During this pandemic, it's more important than ever that we broadcast the saving message of Christ to as many people as possible, reaching out to them where they are. We've heard from alumni and friends of Bethany Lutheran College how much they appreciate being able to view these messages and to keep them connected to both Bethany and to the Word of God.
We live stream and record chapel services at Bethany Monday through Friday when school is in session. The services begin at 10 a.m., generally run about 15-20 minutes and include hymns, a short sermon message and sometimes special music or a soloist. There are a number of ordained clergy who deliver timely messages of the One Thing Needful—the saving Gospel of Christ—to students, faculty, and staff, and to anyone watching online.
Three people rotate to handle the streaming and recording for chapel: Jon Kovaciny (Web Development Specialist), John Sehloff (Director of Information Technology), and I. Glenda Bossow is our key support person who uploads the service information to our website for those who wish to follow along (hymns, readings), and also edits audio files for upload and distribution.
Bethany streams services using three remote PTZ (pan, tilt, zoom) cameras which are all connected to one touch-screen controller. This sits next to our computer and audio board so one operator can control both the video cameras and audio from one location. Having the setup inside the worship space allows us to hear the audio produced and make adjustments as necessary. It's also nice to see who's moving and where when it comes time to switching camera shots during a service.
We use Wirecast Studio for our interface and encoding, and stream to our website via DaCast, and also to YouTube Live. In addition to the video streams, we also record a separate audio file which is distributed via podcast platforms (Spotify, Apple Podcasts, iHeart Radio, etc.) available on our website. The entire service and the sermon message are available separately to listen to. Our Chapel web page also contains an archive of past services which are sortable by preacher and searchable by keyword.
One of Bethany's core values is a commitment to the Gospel. Through the efforts we're putting forth, we hope more people hear the Good News proclamation that salvation is a free gift from God's grace alone.

---
Translate this page into your language
Return to original language with "show original" button at top left.