Pioneer Pastor and People
Newly ordained and recently married, Ulrik Vilhelm Koren and his bride Elisabeth set off on the long journey from Norway to America. Their destination was northeast Iowa, where Pastor Koren had accepted a call to serve three congregations. When he arrived just before Christmas in 1853, he found that there was no parsonage for them and no church buildings. He also learned that the three "congregations" were really only geographical areas.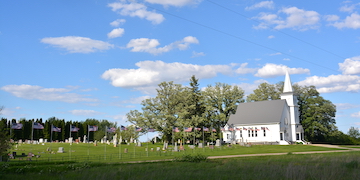 The Saude Lutheran Church
The Norwegian settlers he was to serve were scattered in all directions over an area of several counties just west of the Mississippi River. So he set out to find them. In the winter he rode in a primitive horse-drawn sleigh and in warmer weather a small wagon with no springs under the wagon box. Without signs or even solid roads to go by, Pastor Koren became accustomed to navigating by natural landmarks, wooded areas, rivers, and creeks.
The pioneer farmers knew these landmarks too. That is why two of the congregations I now serve were once called "Little Turkey Lutheran Church" established near the Little Turkey River in 1857, and "Crane Creek Lutheran Church" organized next to Crane Creek in 1867. Both churches were built where their members lived – in the country with no sizeable towns nearby.
As time passed, some of the old country lanes faded and became overgrown while other roads were improved. This is how the Little Turkey congregation, now called Saude Evangelical Lutheran Church, came to be hidden behind some tall oak trees off the beaten path. What used to be a through road is now a dead end gravel road, and a person has to be looking for the church to find it.
When a doctrinal controversy divided the Crane Creek congregation in the 1890s, the majority group decided to sell the building to the minority and relocated north and west to the edge of a tiny town called Jerico. This congregation eventually took the name Jerico Evangelical Lutheran Church. It sits on a paved road, but one lightly traveled.
Jerico Lutheran Church
For the last few years, I have also served a congregation called Redeemer Evangelical Lutheran Church in a town of just over 3,000 people. This congregation originally began as a mission of the Jerico and Saude churches in the 1940s. It is located in a quiet residential area with most of the traffic coming from the immediate neighborhood.
How does a small parish like this conduct outreach in a low population area where hogs outnumber people by the tens of thousands? A bright digital sign outside the churches doesn't seem like a wise investment. But an active presence online where we can introduce ourselves to the wider community does seem useful. On our church website, we wanted to focus on two major areas: who we are (history) and what we are about (doctrine).
Looking Back, Looking Forward
History is important to the people of the area. The older members of the community can take you down one country road after another and tell you who lives on a particular farm site and who used to live there before. Row after row of gravestones in the rural church cemeteries also send the message that these congregations have been here a while. Our cemeteries have stones for Civil War veterans and for once-prominent families that are now all but forgotten. The roots here run deep.
It is important to reflect this history on our church website. For one thing, we want to remind ourselves how we came to be as congregations and what has taken place through the years. For another, we want the community to know our story. We want to explain what sets us apart from the other Lutheran churches around us – why one Lutheran church is not the same as another.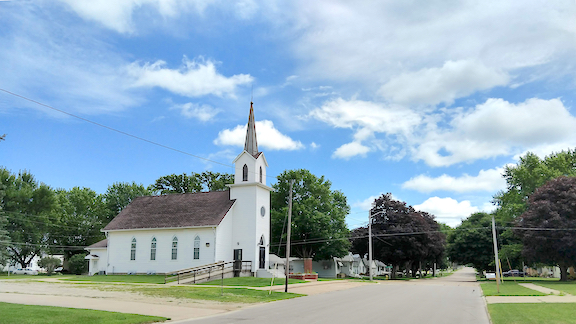 Redeemer Lutheran Church
Church history is not always pretty. People in the community still tell stories about the bitter divisions of well over 100 years ago. The temptation is ever-present to minimize the doctrinal divisions of the past for the sake of unity today. But little compromises have big consequences, as the history of the church shows.
If we do not know our history, we will be poorly equipped for the present and for the future. The Preacher reminds us that "there is nothing new under the sun" (Ecclesiastes 1:9, ESV). Only the ignorant or the arrogant ignore the past. Having a firmer grasp of how we came to be, we have a clearer idea of where we are heading.
A Blessed Consistency
A great strength of our churches is doctrinal continuity. Certainly some of the local practices of our congregations have changed through the years. Offerings were once given on the major festivals only, but now they are collected each Sunday. For a long time, the men used to sit on one side of the church and the women and children on the other. (This sounds particularly strange to us today, but there was a purpose for it. The men always sat on the pulpit side of the church, so they would be sure to hear the Word and be equipped to bring the Word back to their homes.) Services used to be conducted in Norwegian. Many things in the outside world too have changed since our congregations were established in the mid-1800s.
But what we teach has not changed. Our faith is the historic Christian faith founded on the unchanging Word of God. Pastor Koren could stand in our pulpits today and preach what he did 150 years ago (albeit in English), and it would sound right to our ears. (see note below)
We are sinners just like all who have gone before us, and Jesus remains the only Savior for sinners. We want this Law and Gospel message to be preached clearly in our sermons, and we want it to be presented clearly on our website. This clear message of sin and grace is becoming hard to find in Christian churches today. Many churches pride themselves on community action efforts and social justice causes, but they don't preach the Word.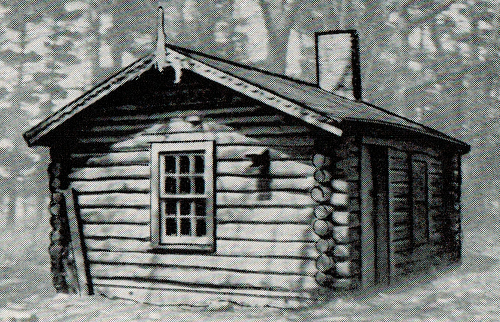 The Strandebarm school
(open from 1928-36)
building still stands
We certainly want to be attuned to the First Article needs of our community. But our primary mission is to preach the Gospel purely and to administer the Sacraments properly. These "means of grace" are how God promises to be present and active in our hearts, in our congregations, and in our communities. By pointing people to Jesus on our church website, we are inviting them to join us at our spiritual oasis in a dying world. Our congregations are not perfect, and some aspects of our church culture may seem strange to an outsider, but we have plenty of room for more broken, humbled sinners like us.
Our Digital Church Sign
Our history and our doctrine – these are the two main things we want to present on our church website. We could go into more detail about these things, but we don't want to overwhelm. We want to give enough so people have a clear picture of our congregations before they might walk through our doors. You can view our website here and see if it sparks any ideas for your own church's website.
We also maintain a Facebook page for our churches. We use this to promote real-time events, give updates, and provide links to our sermons. While Facebook does not reach everybody, it has allowed us to develop a nice network of people in our community and beyond.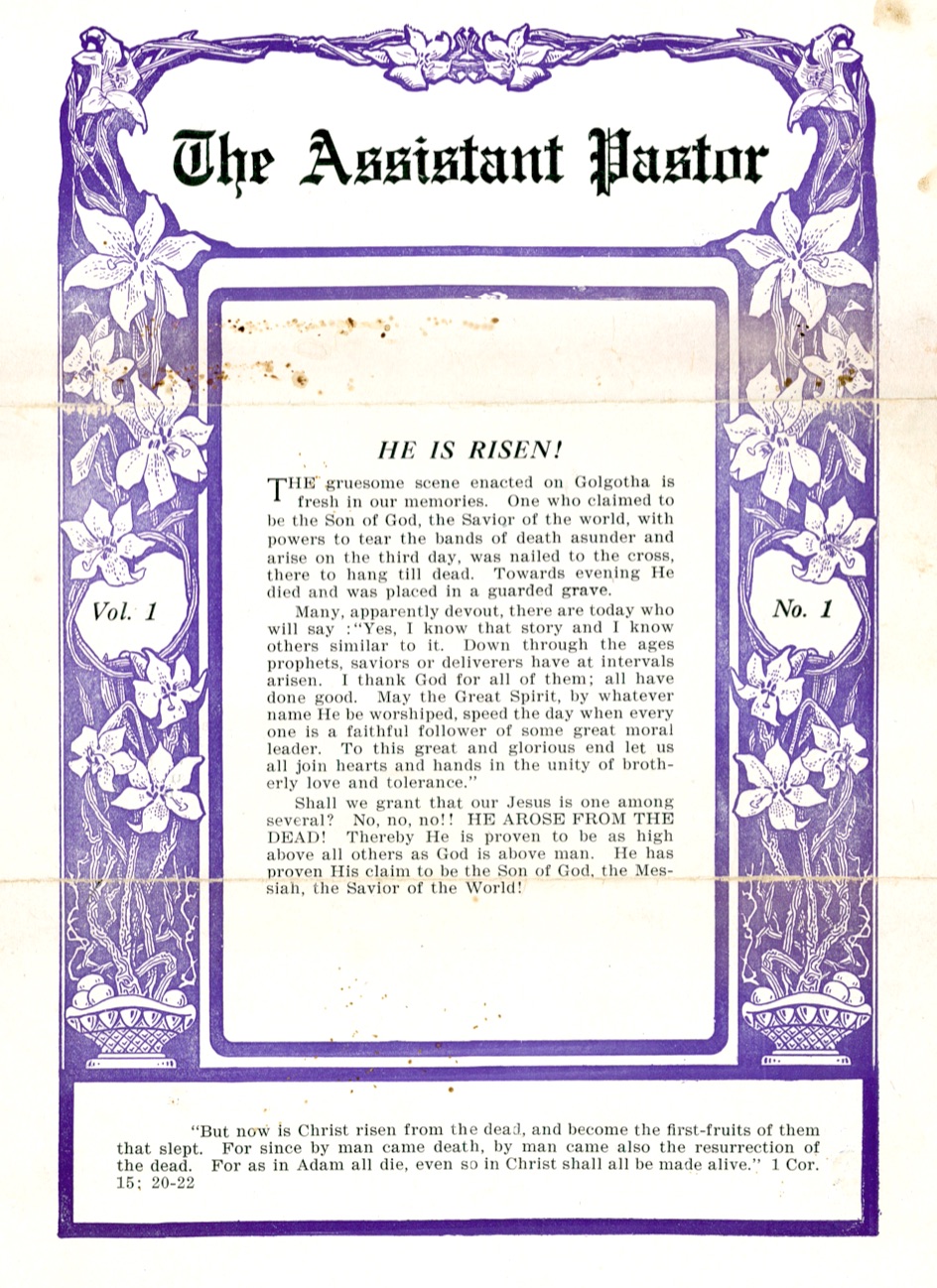 Front page of the
first issue of the
"Assistant Pastor" 1926
Whatever the result of these digital efforts, we are glad to be able to share the message of Jesus with any who may be looking for it or any who may just stumble across it. The light of His salvation is needed everywhere, and He promises that His powerful Gospel will not return to Him void. As long as He allows us to continue, we will proclaim His grace in the fields of northeast Iowa.
Direct links to features of the Saude/Jerico church web presence.
History page In addition to narrative history, this page contains an extensive archive of the "Assistant Pastor," a newsletter that was published regularly from 1926-45 (except for the Great Depression years of 1932-34)
---
Note: Pastor Koren's sermons, among other writings of his, can be purchased from the ELS Historical Society. They were translated in four volumes by Prof. Mark DeGarmeaux. E-mail the ELS Museum for more information.
---
Translate this page into your language
Return to original language with "show original" button at top left.